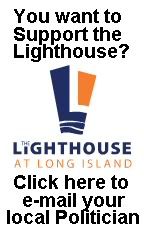 Should we work backwards in our timeline tonight? Sure. Why not.
The Islanders lost 4-0 tonight in Brandon Sudgen's debut. Not his fault. (I would like to know who was repsonsible for handing him a #55 jersey though!!) He dropped the gloves twice.*(Correction: Once, and he won. This is why I wish I could have seen the damn game myself!) But the youngsters were no match for the veteran team. Of course it would have BEEN NICE if the game was audio or video streamed SOMEWHERE. ANYWHERE on the net so that we could have been a little more involved in the game. I remember listening to past pre-season games from far away places webstreamed on the Islanders website. With all our new technology and beautiful video portals ---WHY THE HELL COULDN'T WE WATCH THE DAMN GAME? We'll have to wait for the ITV version later.
I had a very nice conversation with Katrina Doell from the Lighthouse Development group late this afternoon. Katrina is Public Relations coordinator as well as the administrator of the Lighthouse Blog. I've added the link on the side bar and Webby has added a button on the
NYIC
website that will help you send letters to the appropriate government agencies to support the Lighthouse project.
There are seven different form letters to choose from. It really couldn't be simpler. Give it a
"click"
and check it out. If we want our team to have a new arena, then we need to show our support. This will be OUR arena, OUR entertainment center on OUR Long Island. If you are tired of hearing people talk poorly about the facilities you currently pour
your money
into at every game, then let your voice be heard.
Yes, it's a hard road. But you can help pave it. Let the town know the Lighthouse has your support. I've seen the arena areas in Columbus and St. Paul. This will make them jealous.
Okay, it's official. A new hockey blog is generated every minute and the season hasn't even started. I almost fell over when I heard on XM radio today that ex-Tampa Bay GM, Jay Feaster is now a blogger for THN. They also mentioned another blog that looks like it may be interesting during the season because it's by yet another established media name.
24/7Hockey
is authored by broadcast veteran Matt McConnell.
(Okay, I'm starting to wonder. What's the deal? Leave your job, blog full time? Someone explain how that works. Does Neil Smith have a blog yet? He's been out of work how long?)

Also on XM204 today was our own
"24/7"
hockey blogger as
Chris Botta
did a guest spot on "In The Slot." As an ex-radio guy himself, he hasn't lost his touch. And as I just noticed, as I went back to his blog to get the link, here it is 10:24 pm and he already has post game comment entry up. Point Blank -- the 24 hour AP wire of Hockey.
"It's the end of the world as we know it."
But in a good way.
And lastly, this just made me giggle. So it seems Garth Snow wins again. All summer he mentioned that there would be a change in how the team handled the reporting of injuries. Basically, he didn't want to do it anymore. He wanted all injuries to stay within the confines of the club.
He won. It seems that during the last GM meeting, the NHL rule for disclosure was changed and now they basically don't have to say "boo."
I, for one, used to be scared to death when Garth would glare at a reporter who asked a question he didn't want to answer. Once I got over that fear, I actually enjoyed the mental chess game he would play with them. Now, with the ruling on his side, he doesn't even have to glare. He can just not answer. And I'll be in the back of the room.... smiling from ear to ear.
Certainly, as fans, this is going to be miserable for us, but from a business standpoint, I can certainly understand it. Two more points for our GM. What rule will you have changed next Garth?