We get to hear skate blades on ice once again at Ice Works next week when 20 prospects participate in a Rookie camp Monday - Wednesday.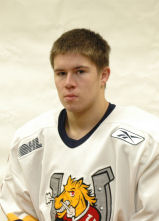 Of course this news would have tweaked my interest anyway because any excuse I can use to get out of work for an extended lunch hour to get down to Ice Works is always welcome. But what caught my attention was the name
Vladimir Nikiforov
.
A few weeks ago, the boards were buzzing with questions about this kid being tagged to play on the Bridgeport Sound Tigers. It seems either he or his relatives were telling patrons and pee wee players that he had been asked. Some members even asked me if I could get any additional information.
We all know that THIS is not the type of information that I can usually uncover. Prospects? Camp Invitees? Rumor? Not exactly my forte. But, I have a hard time saying no if someone asks me to investigate.
I sent Corey Witt an email about something else and, oddly, he answered me. When I figured I had his attention, I posed the question. "Hey! Corey! Rumor has it that Nikiforov will be playing for Bridgeport this coming season. Can you tell me if that's true?"
Surprisingly I DID get another response. Although I wasn't surprised at the content. One word, and the word was "HA!" Not exactly as clever a response as his former boss would have bestowed on me, but one I fully expected.
On today's Islander website story the following is posted:
Vladimir Nikiforov
Born- 10/7/1987

Height- 5'8" (Other sites have him listed as 5'7")

Weight- 170

Position- Right Wing

Nikiforov is a Long Island native invitee. Last season, he started the year with the OHL's Barrie Colts before being traded to Sarnia. Over the first 36 games of the
season in Barrie, Nikiforov scored 21 goals and 32 assists for 53 points.
Despite playing in just over half the season with Barrie, he was second on the
team in goals, first in assists and second in points. With Sarnia, in 15 regular
season games he had four goals and ten assists. He then added a goal and four
assists in nine playoff games. On the year, he had a total of 17 multi-point
games, including three four-point efforts.


So I guess being invited back to Rookie camp is one step closer to the Sound Tigers. Let's hope this Long Island native does better than he did in August when he was injured and couldn't continue competing.

We need more Long Island players in the league. Even if they were born in Russia.